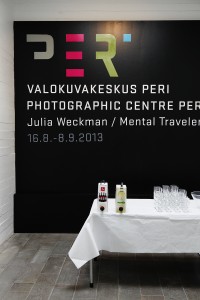 Julia Weckmanin näyttely Mental Traveler mukana Turussa järjestettävässä Kulkulupa-tapahtumassa viikonloppuna 7.-8.9.2013.
Taiteilijatapaamiset Galleria Perissä viikonloppuna klo 12-16, sekä keskustelutilaisuus valokuvataiteilija Hertta Kiiskin kanssa sunnuntaina 8.9. klo 15-16. Keskustelutilaisuus aloittaa gallerian Sunnuntaisalonki-sarjan.
Julia Weckman is participating Kulkulupa-event in Turku 7.-8.september. Artist meetings in Gallery Peri on saturday and sunday 12-16pm, discussion with photographer artist Hertta Kiiski on sunday 15-16pm.