Turistina Paris Photo -tapahtumassa! Komeat puitteet tarjosi Grand Palais, komeaa jälkeä löytyi myös lukuisilta messuosastoilta. Tuttujakin löytyi!
Ja vaikka Paris Photo oli "vain" neljän päivän tapahtuma, kannattaa Pariisiin matkata loppuvuodesta jo pelkästään Pompidou-keskuksen näyttelyiden takia; ne olivat pääasiallisesti huikaisevia. Erityisesti Pierre Huyghen näyttely osui ja upposi. Linkki lehtijuttuun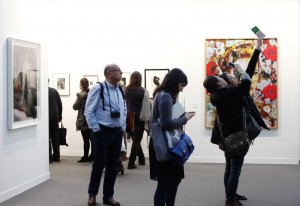 Visiting Paris Photo 2013 -event as a turist! Grand Palais was amazing, as well as some works in the artfair. Also found some friends!
After few days in Paris Photo, we visited the exhibitions in Pompidou center. Loved it, it´s worth to take a look!  See the LINK to Pierre Huyghe´s work.