Julia Weckman: It's Been Awesome
Jan Kenneth Weckman: Not Going Somewhere?
2.-24.6.2021
Gallery Harmaja
Pikisaarentie 17, 90100 Oulu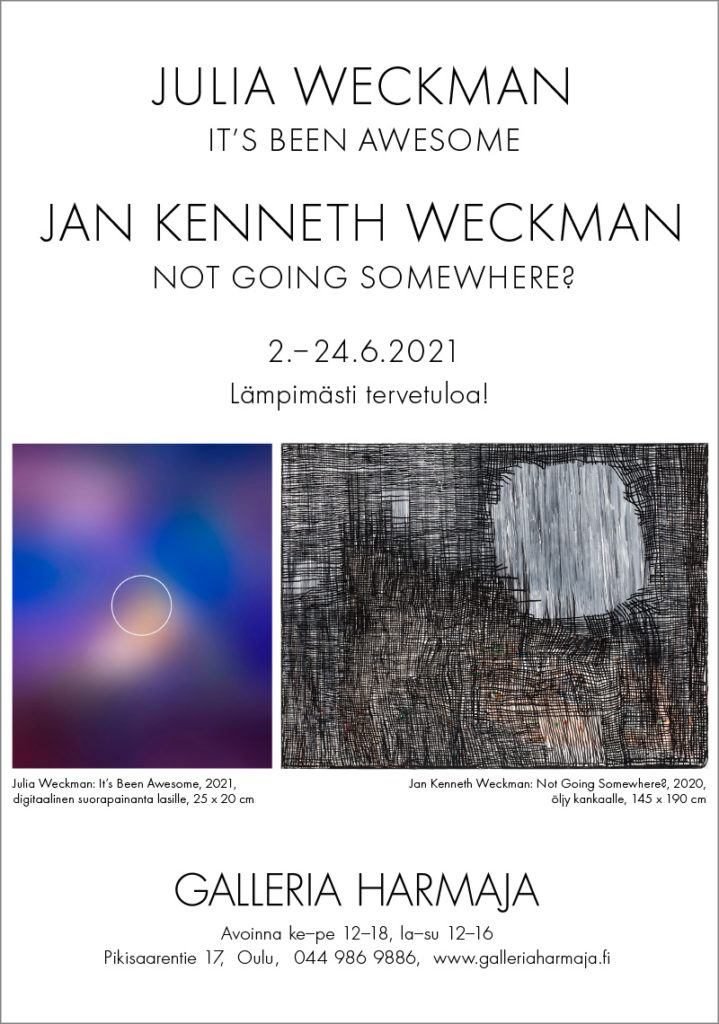 Julia Weckman: It's Been Awesome
Virhe, viive, epäonnistuminen. Eteen tuli näkymä taas yhdenlaiseen todellisuuteen. Yhtäkkiä kiinnostava, kuin suodatettu, kaukaa katsottu. Ehkä väläys siitä ihan oikeasta todellisuudesta? Se näytti meidät ihmiset: Ihmisen häilyvyyden, haavoittuvuuden ja naurettavuuden. Turhamaisuuden ja onnellisuuden. Tarpeen tulla nähdyksi. Rakastetuksi? Kaikki samassa. Etäältä, niin että voi hetken nähdä selkeästi.
**
Error, delay, failure. A view to another kind of reality. Suddenly interesting, like filtered, viewed from afar. Maybe a glimpse of that 'real' reality? It showed us people, our volatility, vulnerability, and ridiculousness. Vanity and happiness. The need to be seen. To be loved? All in one. From a distance, so that you can see clearly for a while.