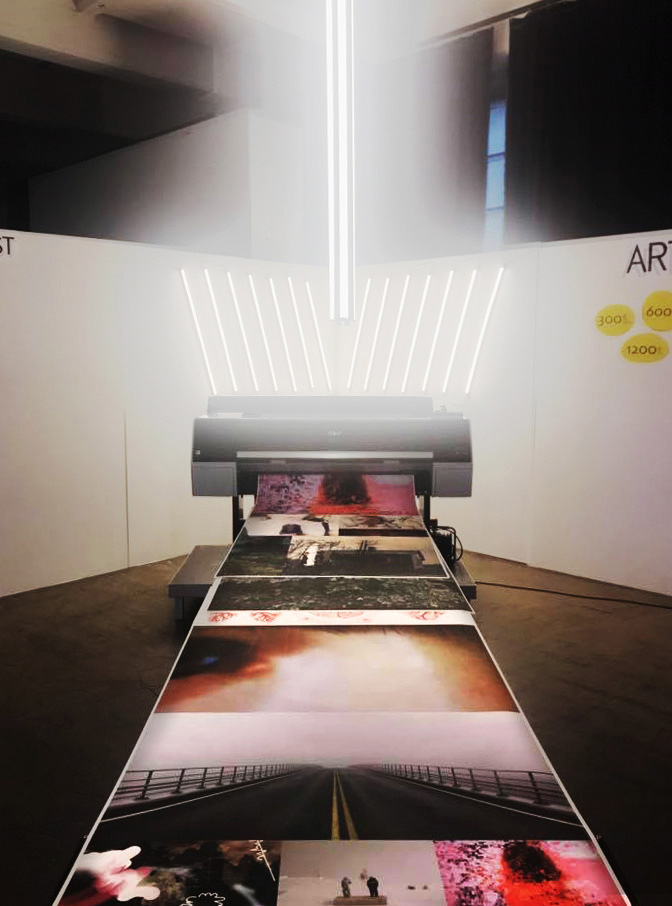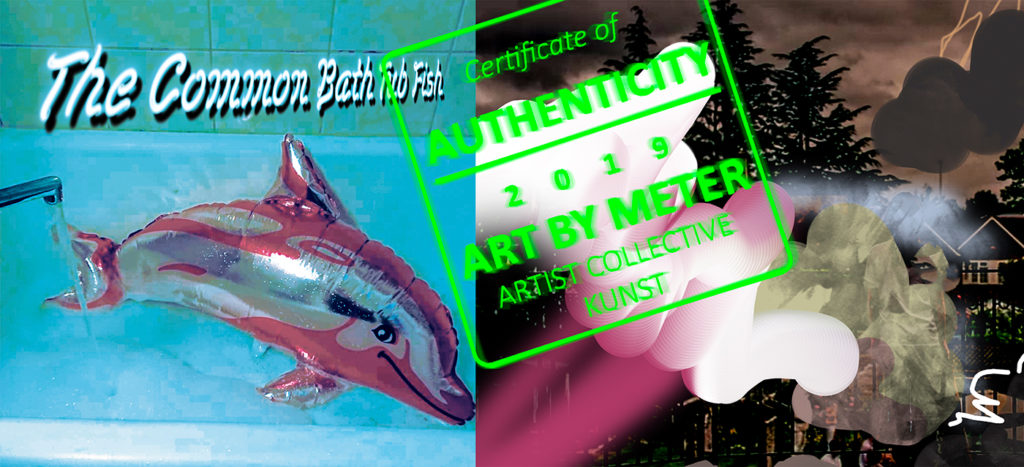 Artist Collective Kunst & Art by Meter in Art Fair Suomi – International Contemporary Art Festival in Cable Factory, Helsinki 23rd-26th May 2019
Art by Meter comments on art as an investment and object of trading. It is a performative installation and a social sculpture by Artist Collective Kunst performed in Art Fair Suomi Festival for Contemporary Art in Cable Factory in May 2019 where art is sold by meter. Carnivalistic work comments on value of art and artists´ work as well as art being subject of trading and investments.
The installation lends its shape to the visual look of the fabric trade. In the book, both the buyers and the artist collective artist Kunst members become part of the social sculpture.
Artist Collective Kunst curated to Art by Meter installation a selection of artists who exhibited at Gallery Lapinlahti during the years 2016-2019.
In the installation, art is produced in continuous feed and buyers can purchase it by meter. Everyone participating in Art By Meter together with members of Artist Collective Kunst create a social sculpture. We comment on the value of art and the structures outside the art field that define art as a product, a commodity, an investment, a tool to enhance well-being, a third-party earnings logic, an export product or a flagship project. Art is created by a professional artist who should be paid for their work. The artist's livelihood consists of 63% other income; income transfers and non-artistic work, 14.5% revenue from artistic work, 4% wages and salaries for artistic work, 18% grants and 1% copyright rewards for artistic work.
The discourse often overlooks the fact that arts and culture create jobs. The arts and culture have against all economic and political realities grown over the last few years. Cultural industries generate 3.6 % of Finland's gross domestic product (including the gaming industry). That is more than, for example, forestry or accommodation and catering. The cultural industries also employ more Finns than the lumber industry and the chemical industry together. (reference: https://taiteilijalehti.fi/kulttuuri-ja-luovat-alat-ovat-suomen-suurimpia-tyollistajia-nain-eri-eduskuntapuolueet-kasvattaisivat-taiteen-rahoitusta/)
Art By Meter sales revenue is divided equally among all the artists participating in the work.

Artists partisipating:Michal Czinege, Aino Dudle, Gabriela Falkner, Christina Holmlund, Sofi Häkkinen, Unski Antti Immonen, Hanne Ivars, Topi Juntunen, Eija Keskinen, Maija Laurinen, Jussi Meuronen, Martina Morger, Pia Paldanius, Jarmo Palola, Sirpa Päivinen, Azar Saiyar, Harlis Schweizer,, Mia Seppälä, Anu Suhonen, Julia Weckman Birgit Widmer, Wassili Widmer, Denise Ziegler.