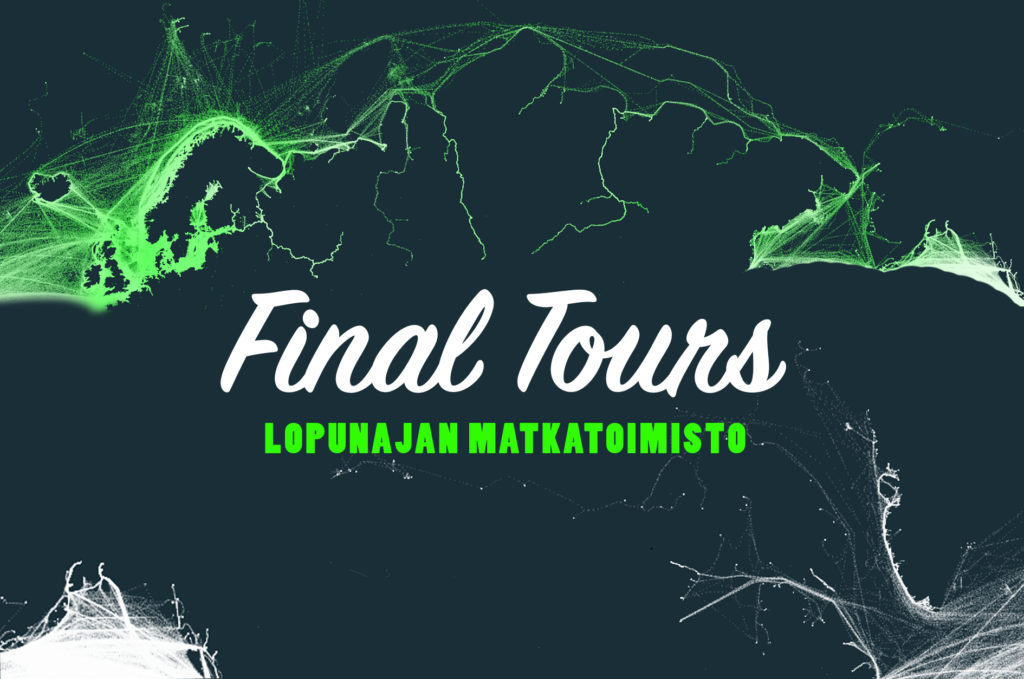 Artist Collective Kunst
Final Tours – End Time Travel Agency
Final Tours – End Time Travel Agency is a social sculpture and performative intervention by Artist Collective Kunst exhibited at Mänttä Art Festival. It is a unique opportunity to participate in a social sculpture and to win a ticket to the journey that begins when the time comes to an end.
Step up to the self-service device and answer 33 questions that have been picked up from dozens of questions currently made by official authorities such as Social Services, Employment office and immigration authorities or when someone's psychophysical condition is been determined. Based on the answers given by customer of Final Tours, the algorithm selects passengers for the journey.
Algorithms create predictions, calculate results, make choices and affect public opinions. They influence invisibly therefore they are unpredictable in scale and impact and may cause destruction. Artist Collective Kunst depicts futuristic possibilities and choices made for the future. Installation and performative interventions reveal hidden exercise of power, social structures and norms in society.
Artist Collective Kunst was founded in spring 2013 . Artists working at the Final Tours – End Time Travel Agency are Christina Holmlund, Pia Paldanius, Sirpa Päivinen, Anu Suhonen and Julia Weckman. Artist Collective Kunst is an action group that creates collective artworks of current topics and themes. Kunst received Regional Art Prize of Uusimaa from Arts Promotion Centre Finland in the autumn of 2018.
Mänttä Art Festival 16.6.-1.9.2019. Curator of Mänttä Art Festival 2019 is Marja Helander. The Theme is The Time of Man. Exhibition space Pekilo is situated in the center of Mänttä, in Tehtaankatu 21, Mänttä.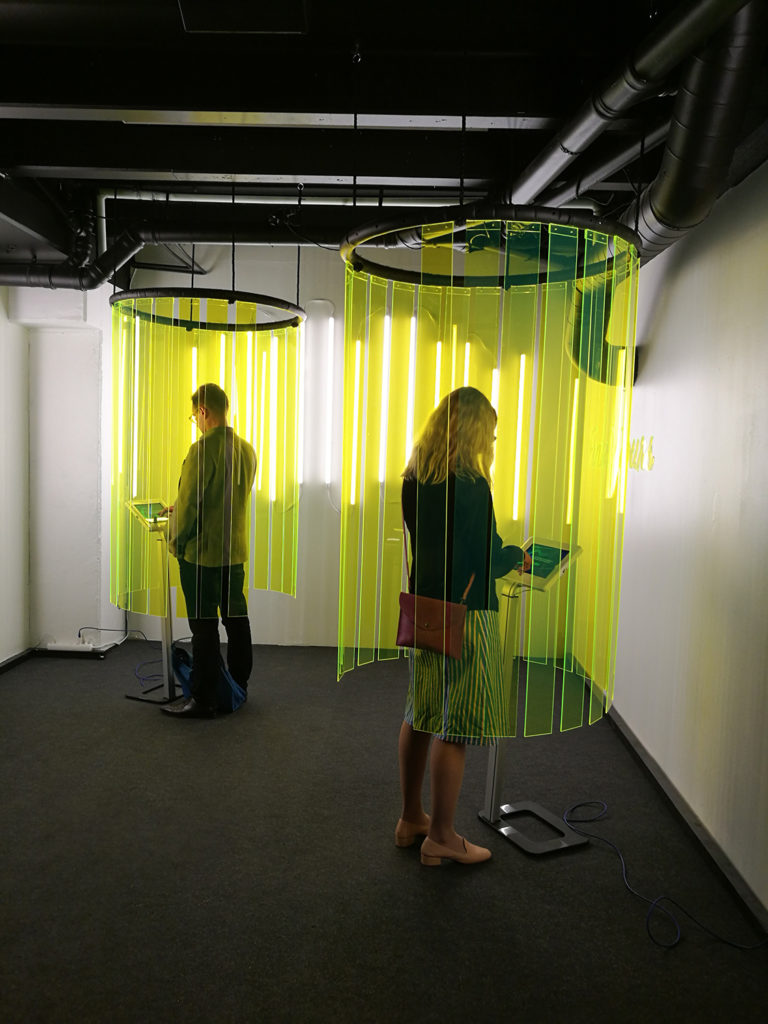 ***
Taiteilijakollektiivi Kunst
Final Tours – Lopunajan Matkatoimisto
Final Tours – Lopunajan Matkatoimisto on Taiteilijakollektiivi Kunstin sosiaalinen veistos ja performatiivinen interventio. Ihmisen aika -näyttelyssä Mäntän kuvataideviikoilla, Pekilossa 16.6.-1.9.2019, on ainutkertainen mahdollisuus osallistua teokseen, jossa voi voittaa lipun matkalle, joka alkaa, sitten kun lopun aika koittaa.
Lopunajan Matkatoimiston asiakas astuu sisään installaatioon itsepalvelulaitteen äärelle ja saa vastatakseen 33 kysymystä. Asiakkaalle esitetyt kysymykset on poimittu kymmenien kysymysten joukosta, joihin ihmiset joutuvat vastaamaan asioidessaan Kelan, TE-toimiston ja Migrin kanssa tai kun heidän psykofyysistä kuntoaan yritetään määrittää. Vastausten perusteella algoritmi valitsee matkalle pääsijät. Algoritmit luovat ennusteita, laskevat tuloksia, tekevät valintoja ja muokkaavat mielipiteitä. Ne vaikuttavat näkymättömissä ja ovat mittakaavaltaan ennakoimattomia. Seurauksiltaan arvaamattomina, ne saattavat aiheuttaa tuhoa. Taiteilijakollektiivi Kunst rakentaa kuvaa tulevaisuuden mahdollisuuksista ja valinnoista. Installaatio ja performatiiviset interventiot tuovat näkyväksi usein piilossa olevaa vallankäyttöä, sosiaalisia rakenteita ja yhteiskuntaa ylläpitäviä sääntöjä.
Taiteilijakollektiivi Kunst on keväällä 2013 perustettu yhteistoiminnallinen yksikkö. Mäntän kuvataideviikoilla 2019 esillä olevan Final Tours -teoksen taiteilijat ovat Christina Holmlund, Pia Paldanius, Sirpa Päivinen, Anu Suhonen ja Julia Weckman. Kunst tekee performatiivisia, teemallisia yhteistaideteoksia ja näyttelyitä. Taiteen Edistämiskeskuksen Uudenmaan taidetoimikunta myönsi Taiteilijakollektiivi Kunstille taidepalkinnon syksyllä 2018.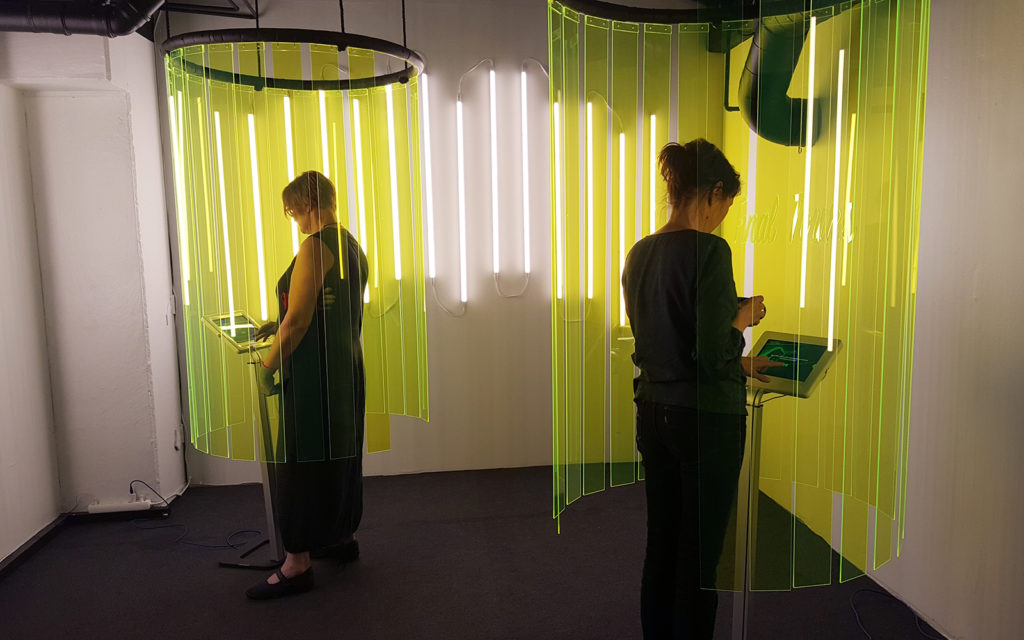 Mäntän kuvataideviikot 16.6.-1.9.2019. Mäntän kuvataideviikkojen vuoden 2019 kuraattori on Marja Helander. Vuoden 2019 Mäntän kuvataideviikkojen teema on Ihmisen aika. Näyttelytila Pekilo sijaitsee Mäntän keskustassa osoitteessa Tehtaankatu 21, Mänttä.