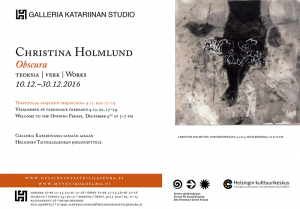 Christina Holmlundin näyttely Obscura on esillä Galleria Katariinan Studiossa 10.-30.12.2016.
Tervetuloa avajaisiin perjantaina 9.12. klo 17-19.
"Obscura on havaintoon pohjautuvista teoksista muodostuva kokonaisuus, joissa valokuva on vahvasti läsnä. Kuvan päälle tulevat kerrokset luovat monitasoisen kertomuksen, josta syntyy tarinallisia fragmentteja ajasta. Galleria Katariinan Studion teokset syntyvät sanoista, jäljistä, tahroista, löydetyistä kuvista ja camera obscuran mustaan laatikkoon tallentuneista maisemista."
Galleria on avoinna ti – pe 11-17, la-su 12-16
Huom! galleria on kiinni joulunpyhinä: 23.-26.12. ja uudenvuodenaattona 30.12.011
Galleria Katariina, Kalevankatu 16, 00100 Helsinki
Christina Holmlund is presenting artworks in solo exhibition 'Obscura' in Gallery Katariina Studio, 10th-30th december.
Welcome to the opening on friday 9th at 5-7pm.
The gallery is open tue-fri 11am-5pm, sat-sun 12-6pm.
Galleria Katariina, Kalevankatu 16, 00100 Helsinki