Circulum II, 2016, diptyykki, pigmenttivedos, Fotosec, à 100 x 125cm
Julia Weckman (s.1977) on espoolainen valokuvaaja ja valokuvataiteilija (TaM). Weckman on osallistunut moniin yhteis- ja ryhmänäyttelyihin sekä toteuttanut yksityisnäyttelyjä niin Suomessa kuin ulkomaillakin. Weckman tulkitsee maisemaa omien henkilökohtaisten kokemusten kautta, käsittelee maiseman kautta myös ihmisyyttä ja inhimillisyyttä ja kommentoi valokuvataiteen ja taiteen historiaa valokuvan ja kuvataiteen välineillä. Viime vuosina näyttelyihin on tullut mukaan myös installaatioita ja videoteoksia. Weckman on pääkaupunkiseudulla toimivan Taiteilijakollektiivi Kunst:n jäsen, joka kuratoi uutta nykytaiteeseen keskittynyttä Galleria Lapinlahtea, sekä toimillaan etsii uusia tapoja työskennellä taiteilijana ja tehdä taiteilijan työtä tutummaksi yleisölle. Hänen teoksiaan on Suomen valtion, Suomen Taideyhdistyksen, Sweco Architects Sweden:n, HUS Jorvin sairaalan ja mm. Valion kokoelmissa yksityisten kokoelmien lisäksi. 
"Käsittelen valokuvataiteellisessa työssäni luontoa, maisemaa ja maisemakuvaa oman henkilökohtaisen elämäni tapahtumia sekä yhteiskunnan muutoksia peilaten. Merkitykset, jonka olen ladannut kuviin ja näyttelykokonaisuuteen, syttyy elämään tarkkaavaisessa katsojassa.
Viimeisimmässä Olemisen rajalla -näyttelyssäni esittelen elämän alkuperäisyyteen ja jatkuvuuteen liittyviä töitäni. Loppusyksyllä ja talvella maahan lakoontuvat ja keväällä jälleen nousevat elämänmuodot kertovat jostain suuremmasta; elämän sinnikkyydestä, kasvien ja elämän-voiman alkuperäisyydestä ja luonnon järjestyksestä. Minua kiinnostaa kasveissa ja siemenissä oleva ihmeellinen koodi, joka mahdollistaa jokaisen talven jälkeen uudestisyntymisen.  Onko meissä ihmisissä tämä koodi, joka kerta toisensa jälkeen nostattaa, antaa luottamuksen jatkuvuudesta?
Vuoden 2014 talvesta lähtien olen kuvannut viljelypalstoilla ja pelloilla. Paikoissa, jotka ovat ihmisen muovaamia, yritelmiä kasvattaa jotakin. Joskus onnistuen, joskus todeten että tehty työ on mennyt hukkaan. Elämän jatkuvuus ei olekaan itsestäänselvyys. Miten me kaikki pärjäämme? Mitä jos tulee "talvi", josta ei enää herätä? Voin kohdata dystooppisen ajatusleikkini henkilökohtaisella ja sosiaalisella ihmissuhteiden tasolla, kun ihmissuhteet lakoavat, näivettyvät tai väsyvät. Miten me jaksamme ja kannattelemme toisiamme, niin että syntyy hyvää ja jotain joka kestää? Ajatuksen voi heittää ilmaan myös yleisellä, globaalilla tasolla. Miten luonto vastaa ihmisen vaatimuksiin, kulutukseen ja jatkuvaan tarpeeseen saada lisää ja enemmän? Jokainen taso ja katsojan kokemus kuvasta on olennainen ja yhtä tosi. Uhkakuvat kiihtyvästä ilmastonmuutoksesta; arktisen jääpeitteen sulaminen, luonnonvarojen roisi hyödyntäminen, viljelykasvien geenimanipulointi, elintason yltiöpäinen kasvattaminen ja ihmiskunnan ruokkiminen ympäristön kustannuksella ja sitä kautta teollisuuden aiheuttama saastuttaminen ja maapallon kohtalokas lämpeneminen ovat asioita, joita mietin arkipäivässäni useasti. Mietin, miten pieni ja mitätön ihminen tässä kokonaisuudessa on, ja miten paljon toimemme tällä planeetalla kuitenkin vaikuttavat. Uskon, että lopulta petämme odotukset ja luottamuksen niin luontoa kuin jälkeläisiämme kohtaan ja ahneuksissamme yksinkertaisesti tuhoamme maapallomme. Vaan olisiko se pienimmän kasvin ihmeellinen koodi säilynyt meiltä piilossa ja kykenisi jälleensyntymiseen? Alkaa uusi aika, johon meillä ei ole mitään asiaa."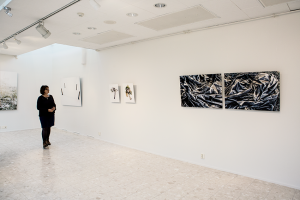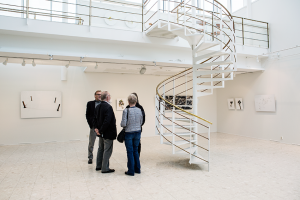 On the Border of Existence, solo exhibition in Kuusamo, Finland, 2016
Artist photographer and Visual Artist Julia Weckman (b.1977) is living and working in Espoo. She has a master of Arts -degree from the University of Art and Design Helsinki. Weckman is working with photograph and fine rts, commenting on both mediums. The main focus is in landscape, personal experience of a landscape as the landscape iage is mirroring her inner emotions and life history. Weckman has been exhibiting her works in Finland and abroad, participated in artist in recidence programs in Northern Finland and Norway, Finnish Archipelago and in Italy. She has artworks in collections in Finland and abroad. 

"I study (and photograph) the landscape through my personal experiences and the changes in the society and the world.  In my latest exhibition, my works are telling about the origins and the continuity of life.
I have been photographing near allotments. The ending fall and cold winter is making all the plants and leaves kneel down on the ground. And when the spring is getting near, they persistently get up again. It tells me about life, the origins of the plants, and the order of the nature. I am interested in the code that is in the plants and seeds. It makes the rebirth possible every time again and again. But what if the rebirth does not happen?
I can see my dystopic vision in an intimate, personal and mental level or more general and concrete, maybe urban or global level, but also on a planetary level. All those levels are essential and true to me. The menacing image of global warming, melting of the arctic glaciers, overexploitation of natural resources, genetic manipulation of crop and plants, feeding the mankind at the expense of the environment, the growing pollution of industry and the forcening climate change are things that I think about in my everyday life. I have heard about a certain collective concern during the cold war, and collective environmental guilt today. We face the information 24hours a day, we recognize what happens around us and get frustrated of the feeling of inadequacy.
The evening starts to darken – Pillow talk – when the lonely monologue starts with words or in dreams (or nightmares), I can feel the weight of our temporary existence and vulnerability on my skin. I truly believe, that in the end, we betray the expectations and finally destroy our planet with our greediness and indifference.
But would there still be a small seed of a plant, the miraculous code stayed hidden somewhere, hidden safe from us and it could rebirth again?
And there would start an era, where WE would not even exist."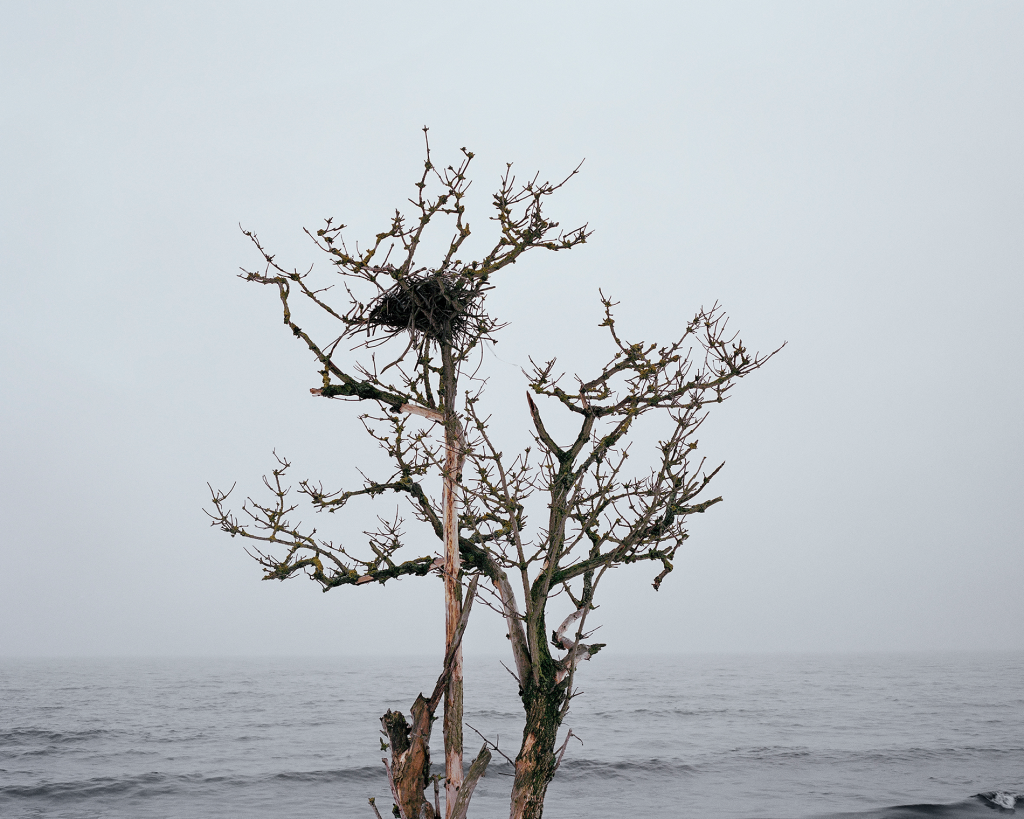 From Close to Far Away, installation, 2017
(Pigment print, Fotosec, 120x150cm, exhibition stand, 2 text sheets, glass plate)
Installation includes a photograph, an exhibition stand, texts from two different people and a glass plate on top of the paper sheets.
Installation From Close to Far Away is about different interpretations, perspectives, and departure. It is likely that we have many different realities. With these different realities, we can see that we are quite similar in the end. Our interpretations are affected by our own life experience, events, environment and circumstances. Most of us have a strong need to form a vision of things and stay firm in this position. It might be difficult to change your own opinions and perceptions, admit to being wrong or expand your understanding of the world. We are fed variety of truths and it is becoming increasingly difficult to find the right one to trust. However, humanity is often a permanent value. In the end it can and should be trusted.
On the different sides of large sea we experience very different things. In the artwork, two people tell about their own story about making a decision and leaving. The idea of ​​leaving can be frightening and impossible to another, and it is the only possible one to the other. We have to make solutions in life we do not want, or solutions that others do not want us to do. I focus on the crystallized moment of departure, when you realize that this is really my life, it is really happening to me. And that my life will inevitably change if I carry out my move.
In the installation, the viewer is provided with different perspectives on the photograph. A change of perspective by reading the different texts may change the image or the work in the viewer's mind. In addition, the viewer's perspective is included. They are all right and possible. The artwork is formed just in this moment. The viewer's reaction, from the perspective that is being formed and its possible change.
By keeping open minds, we get an understanding of different realities and a full spectrum of opportunities. And that's what life is. Full of opportunities.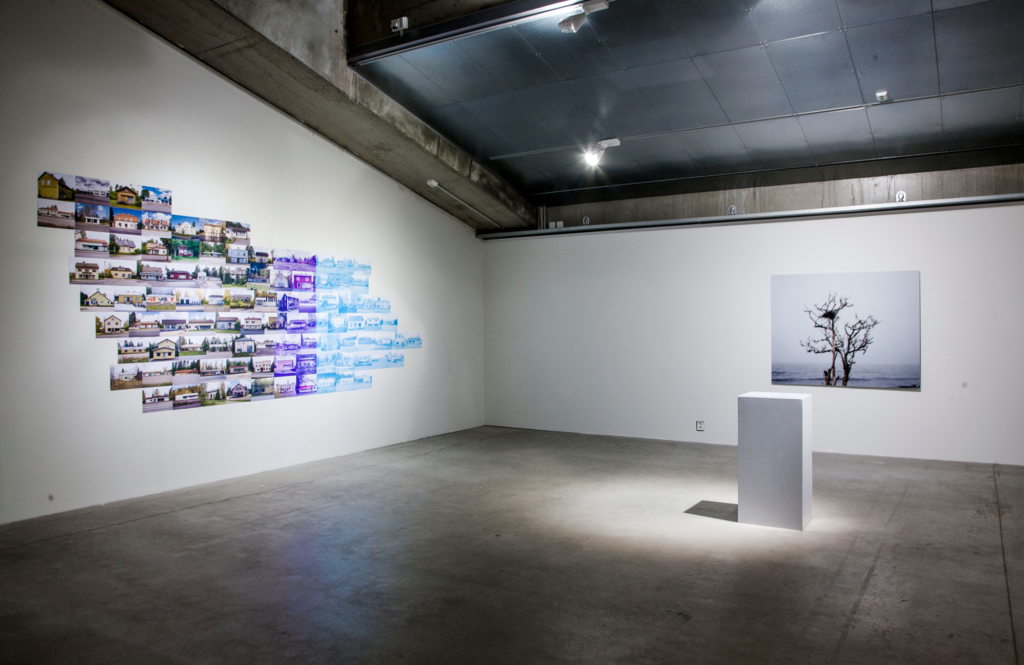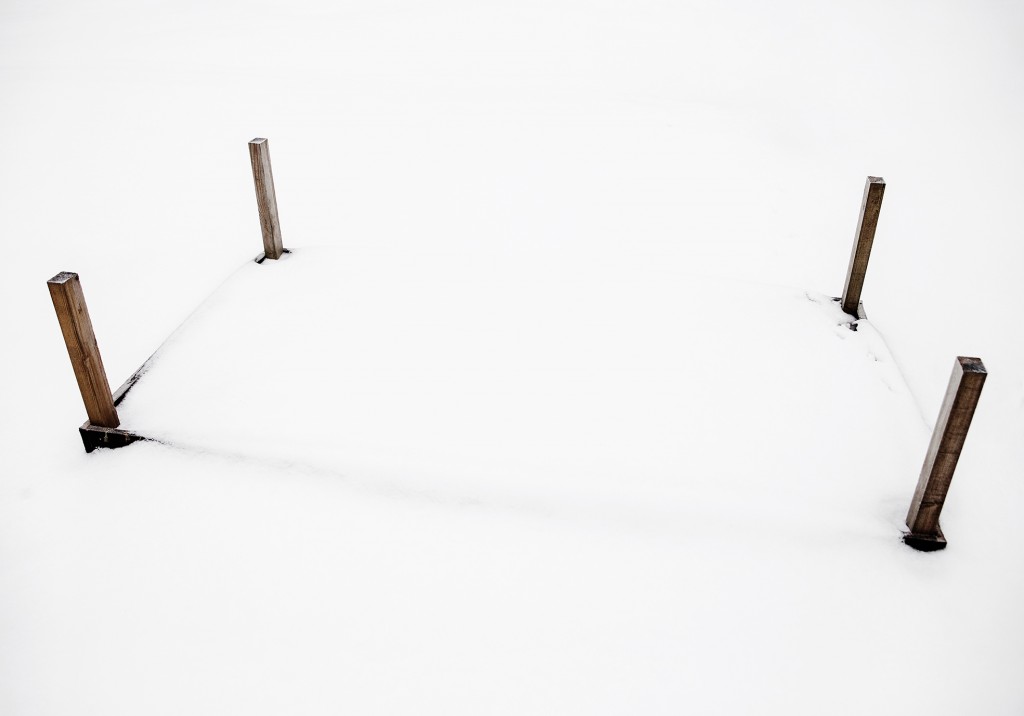 Nimetön, Untitled, 2014, (pigment print, Fotosec, 100x142cm)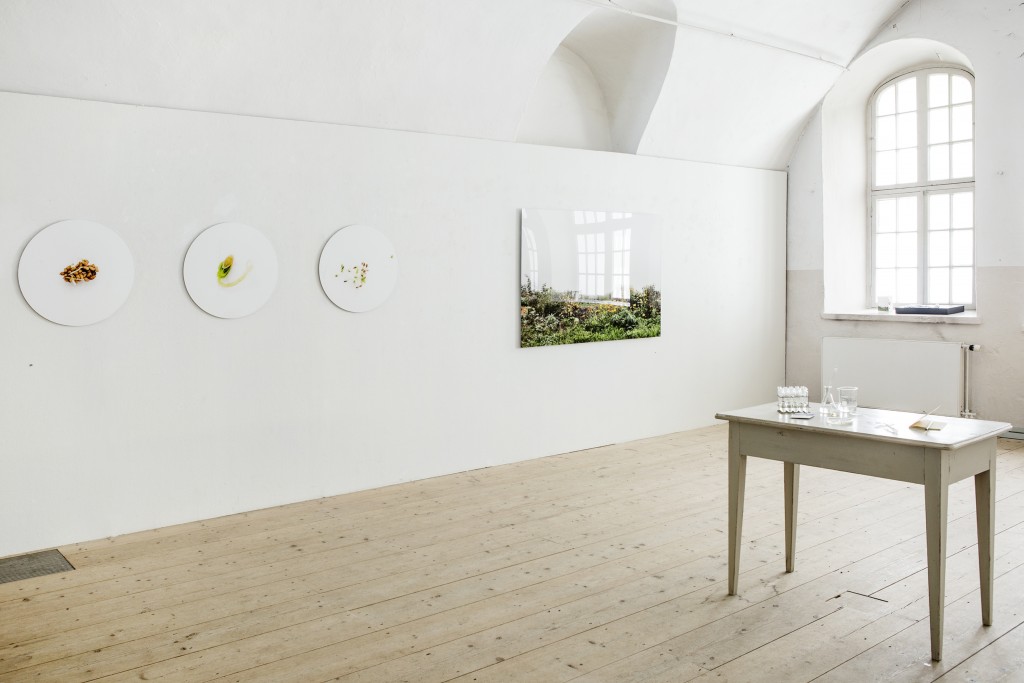 Pillow Talk, Galleria Rantakasarmi, 2015
Nimetön, Untitled, 2014, (pigment print, Fotosec, 100x142cm)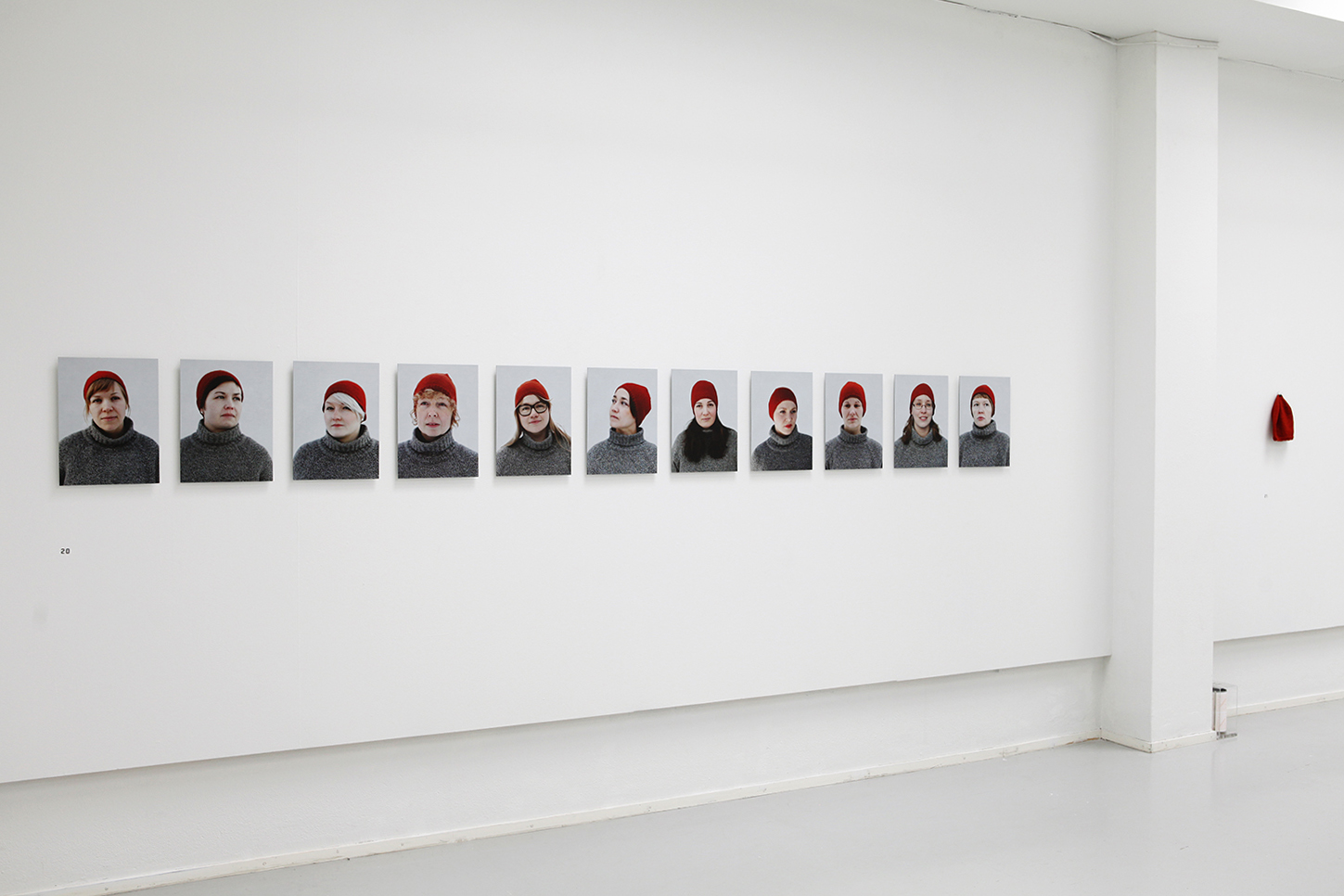 Solo exhibition Mental Traveler in Gallery Peri Turku, 2013