Artist photographer and Visual Artist Julia Weckman (b.1977) is living and working in Espoo. She has a master of Arts -degree from the University of Art and Design Helsinki. Weckman is working with photograph and installations. The main focus is in landscape and personal experience of a landscape. Weckman has been exhibiting her works in Finland and abroad.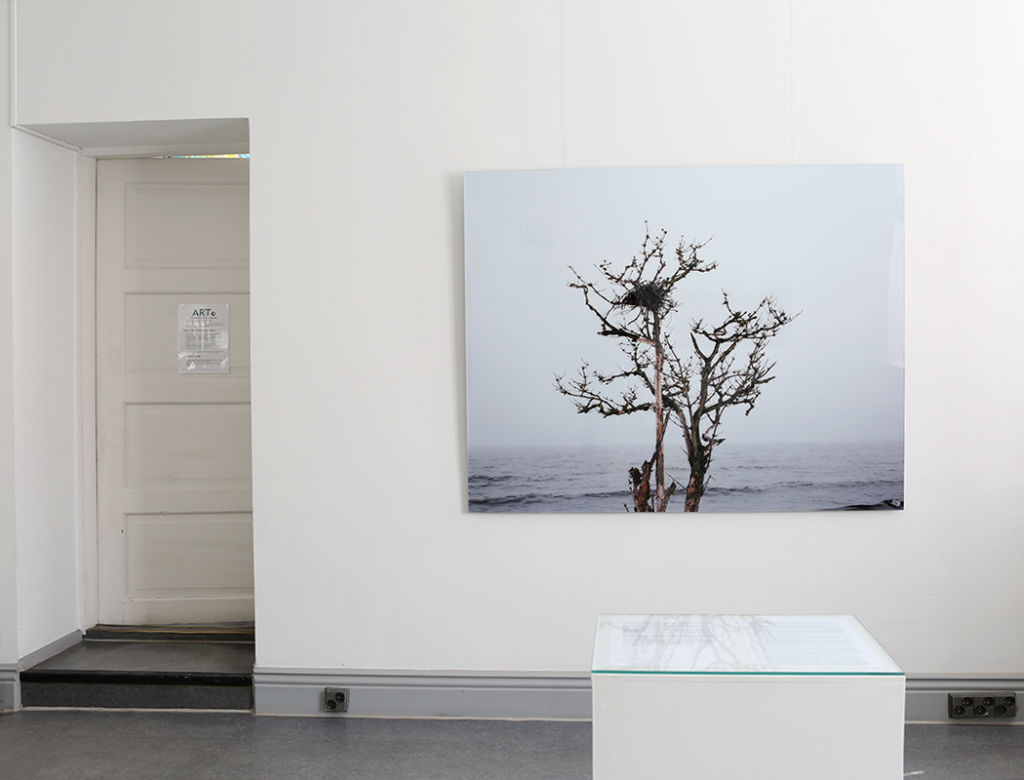 "Installation From Close to Far Away is about different interpretations, perspectives, and departure. It is likely that we have many different realities. With these different realities, we can see that we are quite similar in the end. Our interpretations are affected by our own life experience, events, environment and circumstances. Most of us have a strong need to form a vision of things and stay firm in this position. It might be difficult to change your own opinions and perceptions, admit to being wrong or expand your understanding of the world. We are fed variety of truths and it is becoming increasingly difficult to find the right one to trust. However, humanity is often a permanent value. In the end it can and should be trusted.
On the different sides of large sea we experience very different things. In the artwork, two people tell about their own story about making a decision and leaving. The idea of ​​leaving can be frightening and impossible to another, and it is the only possible one to the other. We have to make solutions in life we do not want, or solutions that others do not want us to do. I focus on the crystallized moment of departure, when you realize that this is really my life, it is really happening to me. And that my life will inevitably change if I carry out my move.
In the installation, the viewer is provided with different perspectives on the photograph. A change of perspective by reading the different texts may change the image or the work in the viewer's mind. In addition, the viewer's perspective is included. They are all right and possible. The artwork is formed just in this moment. The viewer's reaction, from the perspective that is being formed and its possible change.
By keeping open minds, we get an understanding of different realities and a full spectrum of opportunities. And that's what life is. Full of opportunities."

"I study (and photograph) the landscape through my personal experiences and the changes in the society and the world. In my latest exhibition, my works are telling about the origins and the continuity of life.
In last few years I have been photographing near allotments. The ending fall and cold winter is making all the plants and leaves kneel down on the ground. And when the spring is getting near, they persistently get up again. It tells me about life, the origins of the plants, and the order of the nature. I am interested in the code that is in the plants and seeds. It makes the rebirth possible every time again and again. But what if the rebirth does not happen?
I can see my dystopic vision in an intimate, personal and mental level or more general and concrete, maybe urban or global level, but also on a planetary level. All those levels are essential and true to me. The menacing image of global warming, melting of the arctic glaciers, over exploitation of natural resources, genetic manipulation of crop and plants, feeding the mankind at the expense of the environment, the growing pollution of industry and the forcening climate change are things that I think about in my everyday life. I have heard about a certain collective concern during the cold war, and collective environmental guilt today. We face the information 24 hours a day, we recognize what happens around us and get frustrated of the feeling of inadequacy.
The evening starts to darken – Pillow talk – when the lonely monologue starts with words or in dreams (or nightmares), I can feel the weight of our temporary existence and vulnerability on my skin. I truly believe, that in the end, we betray the expectations and finally destroy our planet with our greediness and indifference.
But would there still be a small seed of a plant, the miraculous code stayed hidden somewhere, hidden safe from us and it could rebirth again?
And there would start an era, where WE would not even exist."